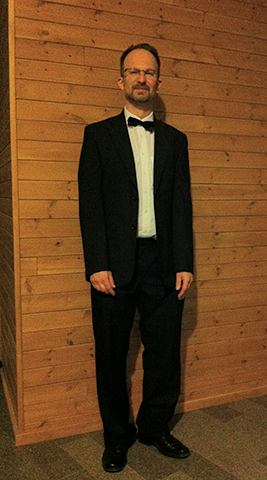 Urban
Already at the age of four, Urban's parents realised that he was unable to sit still as soon as he heard music. Later on he started to play the flute in the local music school, but never made any major progress. Marching bands were really not his main musical interest!
Later on, inspired by the early 1980's New Romantic music, Urban started playing synthesizer in a band which opened up his real interest in music. Being involved in writing, arranging and performing music on stage was obviously what he was longing for. In late 1980's he moved to Gothenburg both to study and to join the very active New wave scene. This resulted in him starting up a band called Feber, which finally got a record deal and released a single. During these years Urban had started playing the double bass in an orchestra and in the beginning of the 1990's he took this instrument over to the band. He had started to listen to bands such as the Pogues and Perssons Pack as well as the long forgotten band Sailor and wanted to play music with mainly acoustic instruments. Since then he has been stuck to his big bass and has finally found "his" instrument.
Over the years Urban has been involved in several bands with their base in a mix of singer/songwriter tradition as well as folk music. One of the latest bands was Cirkus Sol who released two albums. After some short projects Urban joined Dewsongs in 2010 to find a new challenge in music.