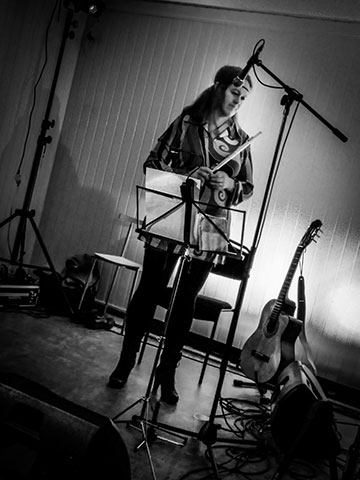 Ingmarie
Ingmarie has always lived with music. When she was a child her family and neighbours always knew were she was, because wherever she went, she was singing.
At the age of eight she started to play the flute, which since then has been her main instrument. Today she also plays saxophone and piano.
At Ljungskile Folkhögskola she studied folk song and flute. After that she moved on to the university of music in Gothenburg. There she had five wonderful years while studying "world music".
Thanks to the music she has made some fantastic journeys. The first was to Gambia, where she made her theses. It was a really interesting experience to see another corner of the world, and to learn that music really is an international language that could be understood even without words.
Then she made two tours to Chile with some friends from the university. These were also two fantastic journeys where they traveled from the north of Chile to the south, playing with different bands in the cities and villages, and with Mapuches in the countryside.
Now she's working as a teacher in wind instruments and playing her music, solo and in different bands in Sweden. She joined Dewsongs in the autumn of 2010